The Marsels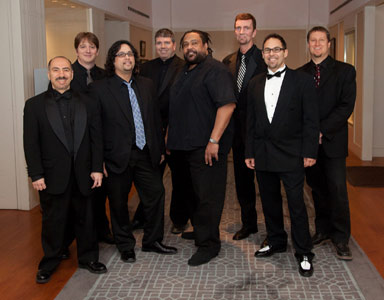 The Marsels have been entertaining guests in Boston and beyond for the past 35 years. Their recipe for success is simple: Take only the finest and latest music of the day, season it with some memories from the past, and perform it with so much style and energy that people can't help having a good time - no matter what their age.
---
Randy Price, is co-anchor of WCVB-TV's "EyeOpener," New England's #1 early morning newscast. Price, who joined WCVB-TV Channel 5 in June 2009, also contributes to breaking news stories and major event coverage for NewsCenter 5 and TheBostonChannel.com.
During his distinguished career, Price has been honored with numerous humanitarian and professional awards, among them the broadcast industry's highest honor: a national Edward R. Murrow Award for Best Newscast in Boston. He has regularly reported from the site of many news events important to New Englanders, from numerous New Hampshire presidential primaries to the Challenger shuttle explosion. On the national front, Price has covered the war in Afghanistan and the impeachment of President Clinton.
Price is also well-known to New England's civic and philanthropic communities, regularly volunteering his time to raise funds and awareness for a variety of causes. A breeder of champion American Cocker Spaniels, Price works with all of the major animal welfare and rescue organizations in Greater Boston. He is also the "chief cheerleader" for the annual Walk for Autism and works with organizations relating to alcohol and substance abuse. An avid gardener, Price and his spouse often use their gardens for fundraisers for various community organizations.
A native of Louisiana, Price began his broadcast career in college radio at Louisiana State University and his television career with the American Forces Radio and Television Service as a member of the U.S. Air Force. Price then served as a lead anchor at television stations in Bakersfield, Calif., and Toledo, Ohio, before coming to Boston, where he has anchored at all of the major network-affiliated stations. Price is married and lives in Kittery Point, Maine.
---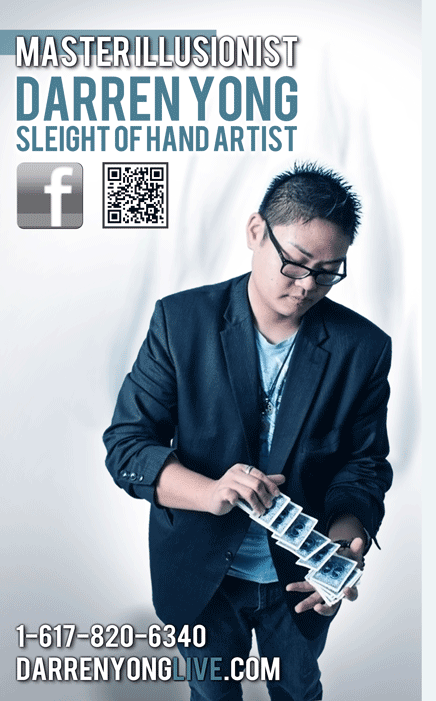 Darren Yong
Darren Yong is a professional sleight of hand artist who uses his skills in psychology, social behavior, and human development to show us how we can be deceived with our eyes and our mind. He is a professional magician and mentalist. Darren focuses his talents in close up magic, a form of performance that is done right before your eyes. No smoke, no special effects, glitter, mirrors, lengthy story lines, or boxes.