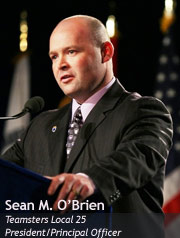 A message from Sean O'Brien
President, Teamsters Local 25

Seven years ago the Teamsters Local 25 Autism Fund began because a couple of members had children with autism. Today, we've raised more than $1.5-million dollars for autism research and awareness and are consistently the top fundraiser in the Northeast for Autism Speaks.
Teamsters Local 25 is made up of more than 11,000 members from across Massachusetts and Southern New Hampshire, and our fundraisers have included walks, motorcycles rides, golf tournaments and our annual Gala.
Whether you supported our annual Gala as a Sponsor, Auction Donor, or attended as guest, thank you for helping Teamsters Local 25 raise funds for autism.
We look forward to seeing you March 30th!
---

Click here to download a Discounted Parking Pass for the Autism Gala